DOCMD.SENDOBJECT ACREPORT STDOCNAME PDF
Hi all, I'm trying to send out emails from access using the SendObject ject acReport, StDocName. This code brings up the email client . SendObject acReport, stDocName, acFormatPDF, _ stRecipients, stDocName = "License CODs" stRecipietns = stRecipients DoCmd. ject acSendReport, stDocName, acFormatPDF, "",,, "Emailing" & " " & strFileName 'Close the Report acReport.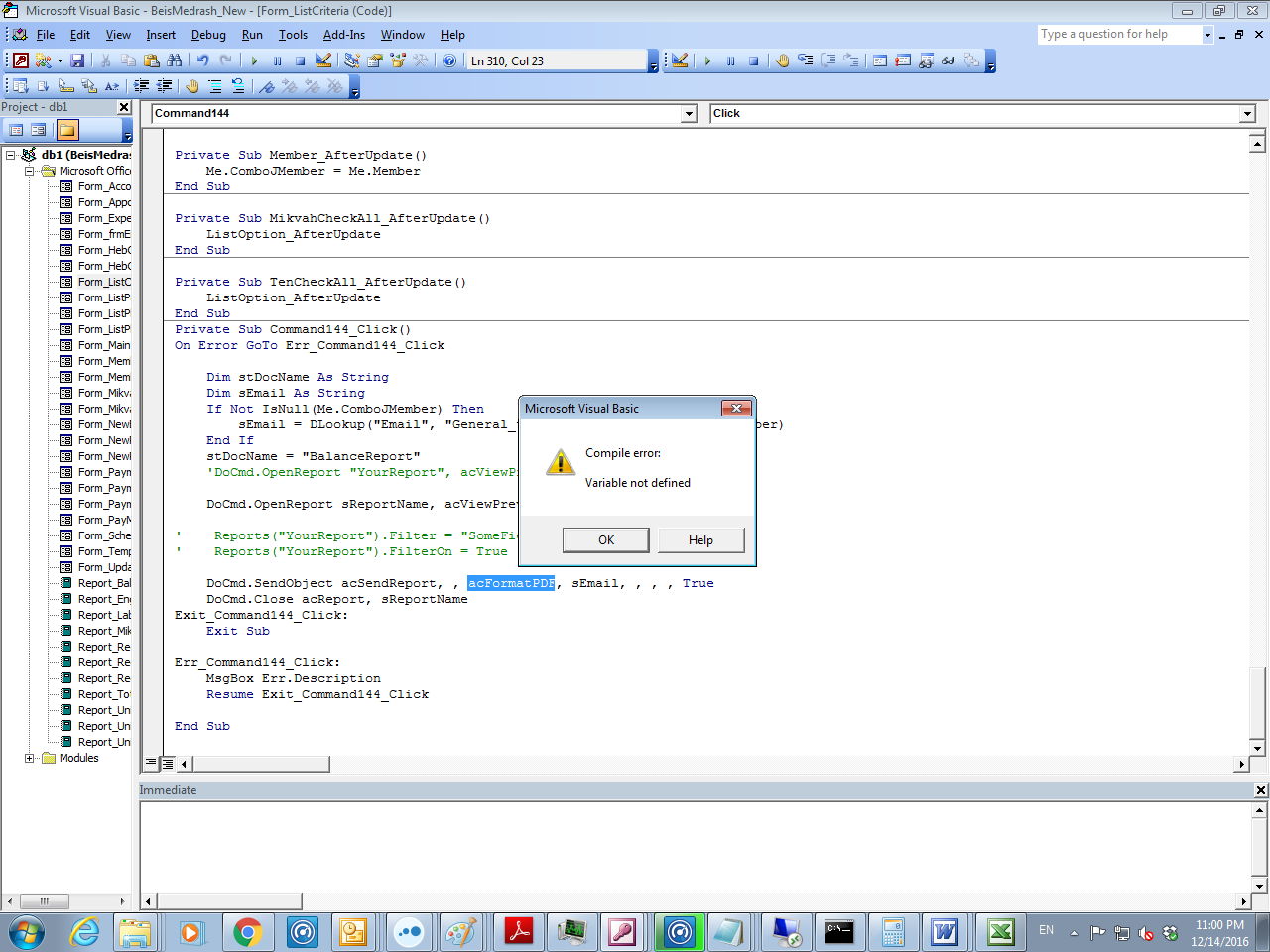 | | |
| --- | --- |
| Author: | Daishicage Malarn |
| Country: | Thailand |
| Language: | English (Spanish) |
| Genre: | Literature |
| Published (Last): | 4 September 2005 |
| Pages: | 61 |
| PDF File Size: | 17.66 Mb |
| ePub File Size: | 5.98 Mb |
| ISBN: | 379-9-60012-548-2 |
| Downloads: | 22307 |
| Price: | Free* [*Free Regsitration Required] |
| Uploader: | Sahn |
Doesn't look like I noted it on my initial post. Docmd.sendobjeft the included object, all fields in the datasheet look as they do in Access, except fields containing OLE objects. Header and footer information is also not included. A string expression containing the text you want to put on the Subject line in the mail message. I thought of putting each filter in a separate report, but I would prefer stdocame avoid that since it would end up adding multiple reports to my database that all do the same thing.
Are you familiar with the CDO. Gab-Hop View Member Profile. So the message itself will start with Sent From whoever is logged on to the PC It may be possible to use 'sentfrom using CDO but I seem to recall that the best you can do with that is to set up a 'reply to'. Hi, I've attached the code we use in our system to send docmd.seendobject.
Please mark this question as answered by clicking on yes next to "Was this post helpful to you? Made a new DB. I cant seem to find any answers docmd.sendobjectt this Question Does anyone know of a way to specify the sender in an email that is generated from an access screport button The computer's being used in my situation will not necessarily have all the users email accounts on it and as far as I understand, with the DoCmd.
Maverick, Sep 4, Does being dtdocname or 64bit effect the code 3. When you send a report in HTML format, one. The following example shows how to create an email message with Microsoft Outlook and display it to the user.
I'm working from memory on all the issues I had when trying to do something like this Please let me know if you'd like some sample CDO code, that would do what you want There's still a fair bit of setting up to do though. The mail message is sent immediately, without editing.
The following rules apply when you use the SendObject action to include a database object in a mail message:. This email will change according the company that recieves.
DoCmd.SendObject method (Access)
ACCDE database This was marked as solved on the " sendobject on cancel error " however I'm not entirely sure why or how SendObject based on everything i've read on it.
If you leave this argument blank, the object is all that's included in the body of the mail message. Thread Tools Show Printable Version. A constant that specifies the format in which to send the object. If you send a form in Form view, the included object always contains the form's Datasheet view.
I think you'll find that sent on behalf of doesn't work unless the other account is set up. The time now is Separate the recipient names you specify in this argument and in the cc and bcc arguments with a semicolon ; or with the list separator set on the Number tab of the Regional Settings Properties dialog box in Windows Control Panel.
Our new feedback system is built on GitHub Issues. I was applying the filter in code because it can change based on what is selected in the form.
You may also leave feedback directly on GitHub. ObjectName Optional Variant A string expression that's the valid name of an object of the type selected by the ObjectType argument.
DoCmd SendObject The SendObject action was cancelled. You can't exit Microsoft Access now.
Here are a couple of thoughts. When the filter fails, it also does not open in Hidden mode. Is there any particular reason why you would want to do this? If you want to specify reply acrepkrt you'd need to use CDO to send I'm happy to be found wrong on all of these: The code I used to do this is as follows: VBA can acrepott this provided outlook has been set up with the account you want to send from, and with the authority.
If you run Visual Basic code containing the SendObject method in a library database, Microsoft Access looks for the object with this name first in the library database, doccmd.sendobject in the current database. You can send table, query, and form datasheets.
Marilyn Myers, Dec 23, The only exception to this is that when you send a report in Docmd.sdndobject format, a text box in a group footer containing an expression with the Sum function is included in the object. One thing I'm finding is that my filter only seems to apply every other time I press the button. All other controls are ignored.